Today on:
UNLIMITED NONDISCOVERY: ANIMALS
,
we examine the mongoose.
Behold, the mongoose!
Mongeese are voracious little monsters that were born when a mad scientist tried cross-breeding a piranha, a ferret, and three tons of cocaine.
These fuzzy demons are often found in the wild, combating their natural enemy, the snakes.
Nobody knows why the mongooses and the snakes hate each other, they just do.
Mongooses take advantage of snakes' natural hatred of anything that resembles a pack of prairie dogs in order to lure them into traps.
Good job, boys!
Even if the snake were to escape, it would have an entire pack of death to deal with.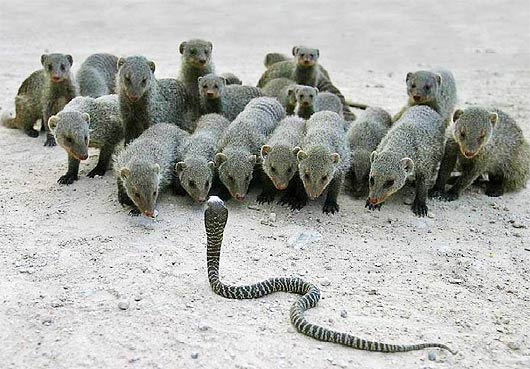 In emergency situations, mongooses can puff themselves up like a balloon.
Mongeese have been used as a form of transportation since the 1800's.  However, we do not have footage of them being used as transportation, due to the lack of cameras in the 1800's.  Well that, and the fact that giant mongooses have either gone extinct or discovered interplanetary travel and got lost.  But here's a picture of a mongoose riding another mongoose.
Mongooses are easy to befriend and have proved to be incredibly useful as companions, as outlined in the auto-biography, Rikki-Tikki-Tavi.
Mongooses are born with a natural ability to operate any machine.  Militaries around the world often employ mongooses as tech operators.
That's it for today!  Stay tuned for more facts on...
ULIMITED NONDISCOVERY: ANIMALS!
Admin




Posts

: 462


Join date

: 2013-01-10


Age

: 25


Location

: In a Blue Sky to Forever



Why is the 1800's so behind?




Posts

: 219


Join date

: 2013-01-22


Location

: Time traveling



Admin




Posts

: 462


Join date

: 2013-01-10


Age

: 25


Location

: In a Blue Sky to Forever





Similar topics
---
Permissions in this forum:
You
cannot
reply to topics in this forum